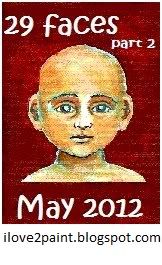 As I indicated in my last post, I'm taking the Suzi Blu's Portrait class and I very much need to practice. So it was serendipity that I ran across
Ayala Art Blog
because she is hosting the 29 faces in 29 days challenge beginning May 1st. Do I need to join another challenge? In general, no not really….except that I do
need
this particular challenge to help me make progress in my portrait class.
Now I may not be able to post 29 different faces during the month but I will try to post my progress in whatever face I am working on.
If you want to know more about this challenge, be sure to visit
Ayala Art Blog
for all the nitty gritty. Once you read up on the challenge, I'm sure you'll want to join us. If not, at least come by and tell me how I'm doing, K?
See you later gater.